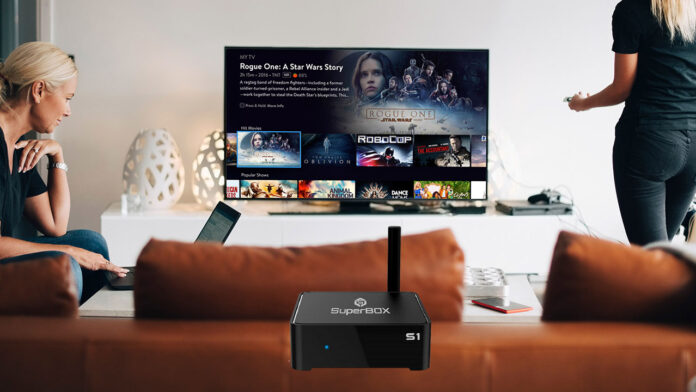 In today's time and age, very few people depend on cable connections for their entertainment channels. The superbox s1pro is a all-in-one streaming media player, that will play all your favorite channels at a lower cost, and with lower customer harassment. This is worldwide universal media player comes with many features that makes it a great choice for people of all ages an backgrounds.
You can check out live sports events, your favorite movies and also TV series, all using the SuperBox S1 Pro. Without further ado, let us look at the several advantages and features of the SuperBox S1 Pro, that makes it a favorite among customers. This Android IPTV Box is surely better than most of its competitors due to its inclusion of premium channels, competitive pricing and also privacy features.
Why Superbox S1 Pro?
Let us take a look at the possible reasons why SuperBox S1 Pro is quite a good purchase for homes and entertainment purposes.
1. No Recurring Costs
Unlike OTT platforms, Superbox doesn't attract recurring charges. You just need to pay once for the box and enjoy lifetime entertainment at the box's cost. Superbox is pretty affordable and no content demands additional subscription before watching it.
2. Non-stop Entertainment- More Than 900 Stations
Consider no lacking entertainment from this box as it's packed with more than 900 channels. You get to enjoy international content from countries like North America, Asia, and Philippines. New content gets added to the box with frequent updates. So you can't complain about lacking content anytime.
3. Hassle-free Installation & Quick Setup
The product comes with a user manual, intended to assure a quick and hassle-free installation. Just plug in the cables and put the box on a stand. It's similar to most plug-n-play technologies. The entire installation takes less than 30 minutes under normal circumstances.
4. Up To 30 Days Return
This is one of the best features of the SuperBox S1 Pro. While others may like the device, it might not suit your fancies. There is no need to fret, since the company has a 30-days return policy.
5. 1-year Warranty
The SuperBox S1 Pro comes with a 1-year warranty, that covers accidental as well as technical damages. You can enjoy your time without thinking of any after-sale services. Even after the one-year warranty period, you would be able to enjoy your shows on your SuperBox S1 Pro.
6. Instant 24/7 Customer Support & Troubleshooting
This is one of the best advantages of using the SuperBox S1 Pro. You no longer have to worry about your S1 Pro box dying out on you. The 24/7 customer service and troubleshooting guide is always ready to help you out with any problems you have. Further, the quality of their customer support will really make you feel satisfied and happy.
7. Ample 18+ Content
This superbox is a shout out to all the 18+ content lovers as it's loaded with ample 18+ content. Don't worry about the privacy as the box comes with a privacy feature to lock the adult content through password and other types of authentication security. Now you can watch adult content on your TV securely without getting busted by your family members.
Conclusion
As you can see, the SuperBox S1 Pro is a great choice for your home entertainment. Be it alone, or with your friends and family, the SuperBox S1 Pro is a great item for relaxing and watching movies Further, the wide variety of content is also great for children and adults alike. So, without further ado, you can buy a SuperBox S1 Pro to try it out today!